1985 Alpenlite 24' 5th Wheel
L&I Approved for Vending

---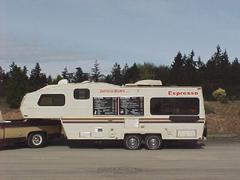 Free Standing Self-Contained
Air Conditioned
The perfect vending unit for all types of events from one day to a a week long festival or fair.
This unit is designed to work in remote locations where conventional power and services are not available. It will also work with a regular extension cord when shore power is available.
The espresso machine and hot water operate on propane. The 12 volt electrical system includes a "Solid State Inverter" which makes battery power available as 110 AC for grinders and other appliances. There is no need for a noisy and smelly generator!
The trailer is equipped with 2 beds and a private area which can be used for sleeping or storage, as necessary.
There is a full sized shower and bathroom for use by the employees, which allows for setting up in remote locations without public facilities.
---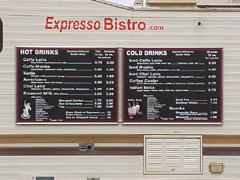 Removable Menus
The custom designed menu boards can be easily removed when not in use.
---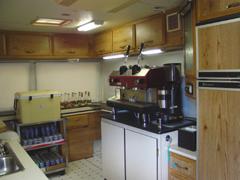 Espresso Area and Syrup Rack
Custom cabinetry includes Formica counter tops and a recessed rack for safe holding of syrup bottles, which are convenient to the serving window and espresso machine.
The espresso machine and grinder are mounted on the white storage cabinet that has lots of available storage space.
---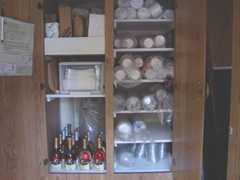 Organized Supply Closet
Custom built, individual compartments for organizing cups, lids, syrups, towels, paper goods, supplies, etc. Secure for travel.
---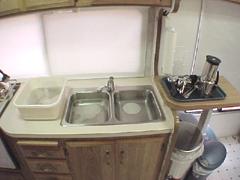 Sinks and Re-Cycling
The stainless steel kitchen sink is used for hand washing and general purpose clean up. By adding a plastic tub it becomes a 3 compartment sink for dish washing which meets health department requirements.
The trash cans below the serving shelf hold the coffee grounds, dirty towels, aluminum cans, and trash.
---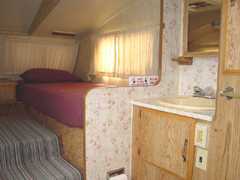 Bathroom for Employees
There is a private bathroom for the employees which means that you can set up and serve anywhere. Most health departments require that the employees have a bathroom facility within 200 feet of the vending unit.
1977 Chevrolet Silverado 3/4 Ton
Classic Crew Cab

---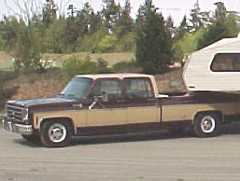 Designed for Pulling
This 1977 Chevrolet Silverado Crew Cab has been very well maintained. The suspension has been lowered for pulling the trailer in a level position. This allows for setting up and working without having to un-hitch the trailer.
15,000 miles on Custom Built 400 Cubic Inch V8, with automatic transmission. The engine has an excess of power to move down the highway without hesitation.
The Crew Cab has plenty of room for 6 people with lots of room for storage of supplies.
The colors blend well together for a very clean classic and professional appearance. People feel comfortable ordering food and drinks from a well maintained rig.
---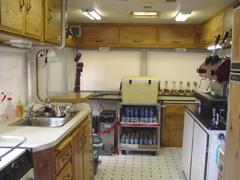 Well Organized Interior
Spacious well lit and efficient layout of the serving and preparation area allows 2 or 3 people to work together as a team.
---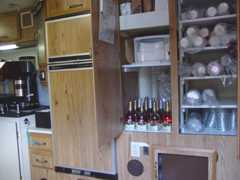 Storage of Milk and Supplies
We converted the refrigerator to work as an insulated storage unit for up to 20 gallons of shelf stable milk.
---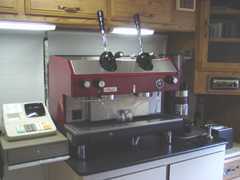 Espresso Machine & Grinder
This Classic Astoria 2 Group Piston Espresso Machine makes some of the best espresso available. Its as simple as pulling the lever down and releasing it to make perfect espresso shots every time.
The espresso machine is powered by propane or conventional 240 volt electricity.
The Rossi coffee grinder is the workhorse of the industry and can be adjusted to give you the perfect grind every time.
The grinder runs on 110 AC and can be operated by the 1000 watt power inverter which is housed in the white cabinet.
---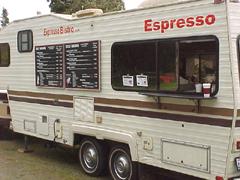 Menu & Serving Counter
The serving window is located at the back end of the trailer. There is a folding serving counter that can be laid flat for traveling, or flipped up and locked in place for serving.
---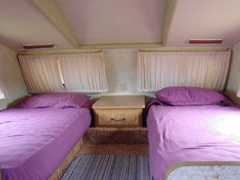 Accommodations
There are two beds and a full size shower. This give you the option of arriving at an event the night before, so you can be set up and running when the other vendors arrive and they are looking for the morning coffee.
This area can also be used for extra storage of supplies, when not being used for sleeping.