Alan Zerobnick Finds a Good Fit in Teaching and Consulting
by Donna Loyle
In an age when many artists decry the often unfair and competitive craft show environment, one artisan has found a way to avoid them altogether.
Leather Worker and Shoemaker Alan Zerobnick, of Port Townsend, Washington, makes custom shoes for a select group of clients. He also runs one of the ShoeMaker Schools in the country. He is a several shoe manufacturers, and he is even working on a proprietary system of computer hardware and software that he says may revolutionize the Custom Shoemaking Industry.
Rewards Beyond Money
A self-professed black sheep in his family- "I was the one who didn't go to medical school"- Zerobnick was one of the Craft World's original converts. "In the 60's,a we just threw our blankets down on the ground and sold our wares right there on the streets," he recalls.
In 1980 he decided to begin teaching his craft to supplement his income. "I realized there were no shoemaking schools in the United States like there are in Europe, he remembers. "By then I had had enough professional experience that I could pass on my craft to others."
He began teaching 30 day workshops, but the time commitment and expense became too much. Now he teaches about five three-day workshops annually at his Tenderfoot Shoe School. And he has expanded his student base to include not only novice artisans but also shoe company executives and designers. "A lot of the executives are accountants or professional managers," Zerobnick says. "They don't even know how the shoes their companies sell are made. They come here to learn."
He cautions other artisans interested in teaching that, while it is gratifying to connect with eager students, his school proceeds account for only 10% of his annual income. "There is no guarantee you'll make a profit from teaching," he notes, adding that marketing, space rental, advertising, bookkeeping and other overhead expenses can quickly add up.
But there are rewards besides monetary ones. "The more I give to you as my student, the more I get back," he explains. "The more people that are doing good quality work here in America, the better our country will be."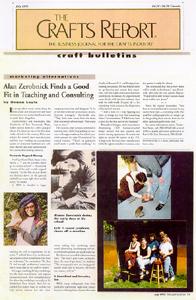 A Consultant and Inventor Too
While many craft people view their medium's traditional large scale manufacturers with suspicion, Zerobnick works closely with some US and foreign shoe making companies. He has helped them set up factories and trained their executives, and he has taught seminars at footwear conferences. In essence, he aligns himself more closely with the shoe industry than with the craft world. It's paid off- his consulting work accounts for 65% of his annual income.
"I had a heck of a time figuring out what to charge my very first consulting client," he remembers. "I didn't even have a price list for that part of my business."
Recently, he has begun work on a custom shoemaking CAD (Computer Aided Design) System that uses scanners and leather cutting equipment. He retains the rights to market the system in the US. A large scale German shoe manufacturer holds the rights to market it overseas, once the system is ready for release.
"I am convinced that this is how shoes will be made in the future," says Zerobnick, who calls the new system Digitoe. "People will be able to have custom made shoes within 2 hours."
Notes the Master Shoemaker; "you have to be multi-faceted to succeed in any career these days- including crafts. For qualified crafts people who are caught up in the grueling show circuit, there can be other applications for their craft."
For more information about Tenderfoot Shoes call 360.385.6164.