We are proud to announce that we have been providing Quality Educational Experiences for over 40 years.
Welcome to ShoeSchool.com
This site is intended to provide a Resource for anyone - Designer, Craftsman, or "Cottage Industrialist" - who has a need, passion or curiosity related to the Art of Leather Craft & Shoemaking.
Whether you are looking for Education, Information, Training, Supplies, Hand Tools, Machinery, Leather or Shoe Lasts,
You Have Come to the Right Place.
Established Since 1981

ShoeSchool remains dedicated to the preservation, sharing, and furthering of the knowledge and skills, related to the Ancient Art of Designing & Hand Crafting Footwear.
Hands-On Workshops

People from many parts of the World have come to ShoeSchool to participate in our
Hands-on Workshops.

Workshops take place in the Studio of a
Master Craftsman.
Learn to use the Hand Tools and
Specialized Machines for Shoemaking.

Explore the Possibilities !
Distance Learning Project

Many people that are interested in learning to make shoes are not able to travel to ShoeSchool for the
Hands-on Workshops.

Digital Publishing makes it possible to preserve and share the knowledge & experience of Master Craftsmanship.

Visit the
Distance Learning Project


Learn at Your Own Pace
"Developing Shoe Last
Collections"

CD ROM Digital Publication

Reference Manual & Catalog for Developing a Collection of Shoe Lasts.

This publication is an essential tool for Shoe Designers, Craftsmen, and Cottage Industry.

Photos, Details, Size Charts,Included.

You can download a Free Sample to View, Print, Save.

Available Now


Order
Now


Rebate
Offer
Site Designed for Viewing at 800 x 600
Optimized for Netscape & Older Browsers



Free
Downloads
Tutorials



Photo Gallery

Video Clips

Books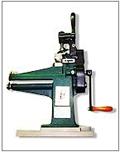 Shoe Resources

Check Out ShoeSchool Channel on You Tube