A Note About Our Embossing Sample

The Compass Rose
is a design which has appeared on charts and maps since the 1300's.
It represents the many directions of the wind. The "Rose"derives from the flower shape created by the 32 points which represent the 8 major winds, 8 half winds, and 16 quarter winds.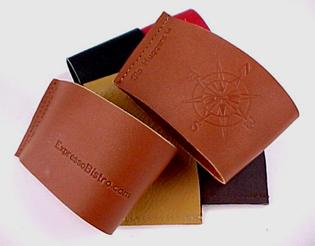 Why Embossing? For a Lasting Impression!
Heat and pressure combine to create a permanent imprint of your message, logo, company or important date, on quality top grain leather.
Embossing leather with a person's name makes a uniquely distinctive, long lasting gift.
Embossing a company logo communicates an enduring marketing message, which will live on for years to come.
Our Compass Rose can be embossed for no extra fee.
DEEP ETCHED EMBOSSING DIES:
LOGOS - ORIGINAL ART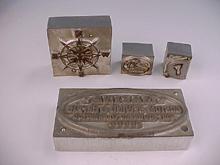 We can take your logo, or artwork and create a deep etched leather embossing die, in 2-3 days.
Your die can be kept on file for future orders.

Embossing
Make a lasting impression by adding a Name or Logo.
These are examples of Leather Embossed with
Logos, Text and Names.
Embossing Ideas:
Company Logos
Individual Names
Monograms
Boat Names
Memorable Dates
Special Events
Awards
---
Download
Catalog &
Order Form
At this time we can only accept orders by phone / fax or regular mail.
On-Line Ordering available in 2003