" Shoe Last "
The solid form around which a shoe is molded...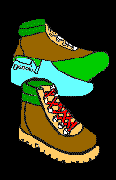 The fit of a shoe depends on the design, shape and volume of the Shoe Last.
The " shoe last " must represent the anatomical information of the foot, at the same time giving the finished shoe a pleasing and fashionable appearance.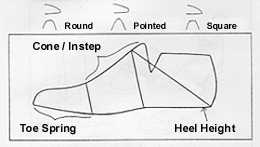 Chart showing the main parts of a " Shoe Last "
Each "shoe last " is designed for a particular heel height and toe shape.
Many styles of shoes can be made on the same shoe last , but the toe shape and heel height will be the same for each pair made on that shoe last.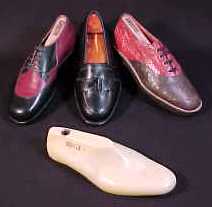 3 Different Shoes
Made on the same " Shoe Last "
If you want to have shoes with different toe shapes, then it is necessary to create more than one pair of shoe lasts.
A proper fitting pair of shoe lasts is a solid investment, and the first step towards getting proper fitting footwear.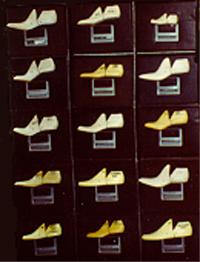 Conventional Shoe Last Archive
Each Shoe Last is designed for a different
Heel Height and Toe Shape
Top Left = Western Boot
Bottom Right = Flat Moccasin